September 30th, 2009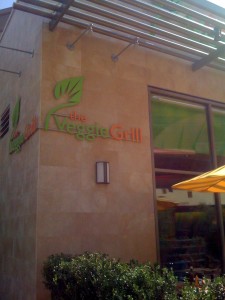 Yesterday, the hubby and I decided to have lunch at the grand opening of a new vegetarian restaurant, The Veggie Grill. Considering there isn't an over abundance of vegetarian restaurants in Hollywood (yes, it's hard to believe), we had high hopes. Since The Veggie Grill is conveniently located next to Trader Joe's, we decided to accomplish two things in one trip. Lunch first, grocery shopping second.
When we opened the doors we were absolutely shocked to see the place completely full. This was a good sign as there are multiple locations in the L.A. area and perhaps these patrons knew something we didn't. After perusing the menu and our difficult meal decisions made, we stood in-line with the rest of the hungry people. We gave our order to a very pleasant cashier and then were provided with empty cups (to help ourselves to beverages) and a numbered sign to place on our table.
As we waited for our meals to be delivered, I took in the atmosphere and decor. It is a cheery, bright restaurant with plenty of tables. The hardwood floors are inviting and and the not-too-overdone neon orange and green colors are surprisingly pleasant to look at. I was drawn to the cute outdoor patio complete with umbrellas, but after a mile walk in the sun to the restaurant I was longing for some air conditioning.
After about a 5-10 minute wait, our food arrived. I must admit D's looked much better than mine. I ordered the Chinese Chickin' salad.  My salad was good, but not great.  It came with faux chickin', romaine, cabbage, green onion, sesame seeds, roasted corn salsa, mandarin oranges with a sesame-rice vinaigrette. Also for added protein, all salads are infused with Quinoa ("keen-wa"), a lovely "supergrain". I only ordered a salad because I was trying to be good. I knew what we were having for dinner and it was all kinds of bad. No salad for me next time.
D's red & white Bean Me Up Chili was quite tasty.
D's Carne Asada sandwich was fantastic. The sandwich was made of grilled veggie-steak, marinated in Mexican spices, with southwestern spiced vegan mayo, red onion, lettuce, tomato on a whole wheat roll with a side of red cabbage 'slaw. Yum, yum, yum!
Most of the items on the menu contained some type of faux meat: chickin', steak or tempeh. D & I found it quite interesting that no where on the menu or in the restaurant does it mention that every item is vegetarian or vegan.  Perhaps people are turned off with the words vegetarian and vegan?  Anyway, I do suspect that everything on the menu is vegan rather than vegetarian.
I do look forward to visiting The Veggie Grill again in the very near future. I have my eye on the Chill Out Wings!