October 5th, 2009
We could not hold out any longer.  Pizza Fusion open its doors a few of weeks ago.  Surprisingly,  it has taken D & I this long to check it out.
Pizza Fusion offers fresh and organic foods and an earth friendly restaurant.  Their menu states "You are about to eat the freshest veggies.  Tastiest certified organic tomato sauce, the juiciest hormone-free meats, and crispiest hand-stretched all-natural dough. Delish."  I will agree almost everything they claim.  Fresh veggies, check.  Tasty tomato sauce, check.  Crispy dough, absolutely!  Since I don't eat meat, I cannot comment on the juiciest meat.  I can, however, give thumbs up to the veggie chicken.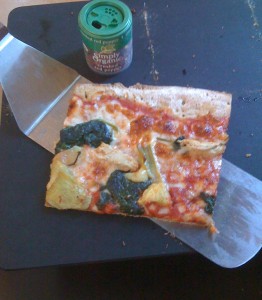 D & I shared a large Spinach and Artichoke pizza (we added the veggie chicken) with multi-grain crust.  The pizza looked so good when it arrived that we almost devoured the entire pie before I remembered to take a photo.  My first bite provided a noticeable crunch.  The dough was thin, crispy and delicious – everything I like in a pizza.  The rest of the pizza was quite enjoyable.   However, since I enjoyed the crust so much I think I will stick to the traditional cheese from here on out.  Multi-grain crust, tomato sauce and cheese is all this girl needs.  I must admit that I went a little crazy with the root beer.  Normally, I'm a water or iced tea drinker, but Pizza Fusion offers bottomless Boylan's Fountain Sodas available in assorted flavors. Yum, too difficult to resist.
I have no doubt that this will become a regular for us.  I do appreciate the veggie chicken, but I'm a little disappointed that they don't have veggie pepperoni as well.  Even us veggie's enjoy a good cheese and faux-pepperoni pizza now and then.  I guess all I can do is continually ask about it every time I go in.
Update:
We have since used their delivery service.
We have tried the Roasted Beet & Feta salad, Greek pizza and a Traditional Cheese pizza. It was all very good. They still have a little work to do on their delivery system as there were a couple of return phone calls to us. The first call was to let us know that the first quote on the price was incorrect because they forgot to add the $2.00 delivery fee. The second call was to let us know they were out of sundried tomatoes for the Four Cheese & Sundried Tomato pizza. We opted for the Greek pizza instead and they did not charge us an additional dollar for ordering a more expensive pizza.