January 2nd, 2007
Today is December 31, 2006. The year 2007 is only 3 ½ hours away. This is a first for me, I am writing this blog from an American Airlines jet bound for Los Angeles. To my right, the city of Las Vegas has just been passed by. To my surprise and elation, Deutsch and I are comfortably sitting in First Class, also known as Business Class but that's less glamorous. Thanks to my wonderful hubby and his frequent flying, we have been upgraded. Woo hoo!
This is my first time flying First Class on American. I was so giddy that I thought I would share my experience with you.
We boarded the plane and found our window & isle seats in the 6th row. Our seats look huge compared to the seats we usually sit in. I particularly enjoy the large armrest between our seats. Awaiting us are two sets of ear plugs for the movie, two bottles of water and blankets neatly folded in specially designed pockets attached to seats in front of us.
Once in the air we are offered complementary beverages, both alcoholic and non-alcoholic. Since it is New Year's eve, Deutsch starts of with a glass of Champagne. Since I am unfortunately feeling a little under the weather, my choice of bubbly is ginger ale. Due to the stealth of our flight attendants, each of our glasses always seems to be full. Now the good stuff starts. We are each offered a small bowl of warm mixed salted nuts. I'm afraid that I was so distracted by my warm nuts that I forgot to whip out my camera to document the beginning of the food. The attendants continue to refill the beverages and nuts until dinner. Oh yes, I said dinner. I never knew that in these days of airline cut backs, they are still feeding the lucky bastards seated in the first six rows.
At first when I heard they were serving dinner I was a little worried. Since the upgrade was only issued late yesterday, I was sure that they would not have had time to get us our vegetarian meals in order. My First Class meal opportunity may be missed! However, once I perused the menu (the MENU?!?), my worries were laid to rest. I did remember to take pictures from here on out. Some photos may be a little dark. I avoided using the flash for fear that my fellow First Class companions would mock me…. a lot. I also didn't want to give anyone a heart attack with a bright flash on an airplane. I figured better to have dark pictures than an undercover airline Marshall jump me. Handcuffs may have ruined the rest of my First Class experience.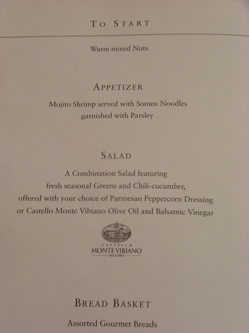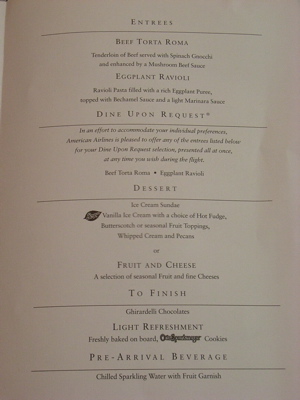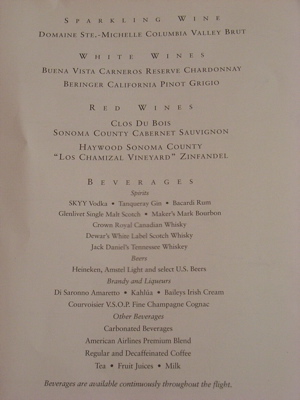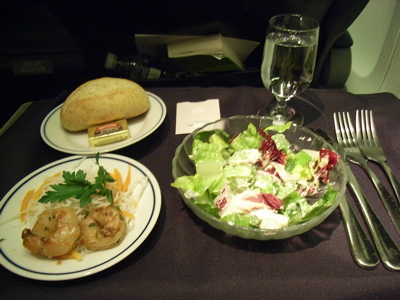 Mojito Shrimp served with Somen Noodles and a Combination Salad featuring fresh seasonal Greens and Chili-cucumber with a Parmesan Peppercorn Dressing and a whole wheat roll.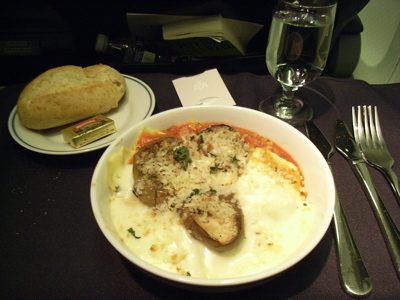 Eggplant Ravioli Pasta filled with a rich Eggplant Puree, topped with Bechamel Sauce and a light Marinara Sauce.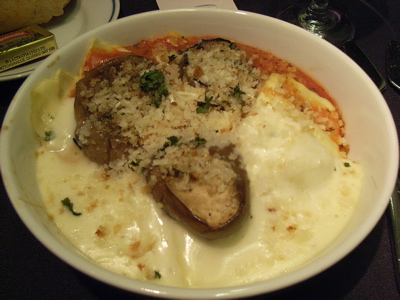 The Ravioli was delicious.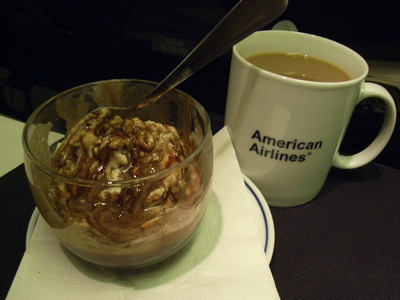 For dessert I had the Breyers Vanilla Ice Cream Sundae with my choice of hot fudge and pecans to top it off. Yum!
Now for the movie portion of the flight. I was happy to find out that they were playing The Illusionist, one that I had recently missed in the theaters. It stars Edward Norton, Jessica Biel, Paul Giamatti and Rufus Sewell. I was thrilled to get in one more movie to add to my 2006 list. It was an enjoyable movie, but predictable.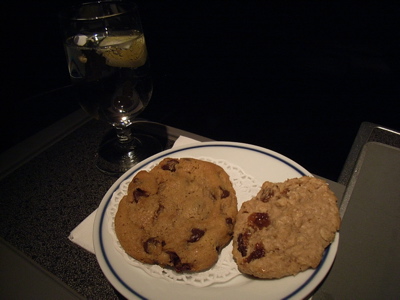 After the movie we were offered freshly baked Otis Spunkmeyer chocolate chip and oatmeal raisin cookies. To accompany the cookies we were given a choice of milk, chocolate milk and/or sparkling water with lemon. I chose the later.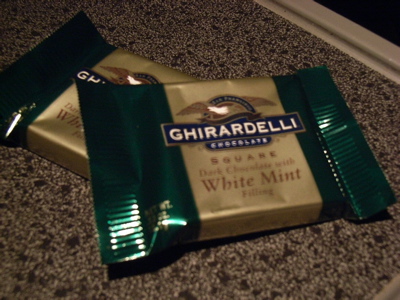 As we make our decent we are treated with good-bye Ghiradadelli chocolates. Dark chocolate with white mint filling, what more could one ask for? I saved mine for later that night after I had chilled it in the fridge.
That concludes my First Class experience. I hope you enjoyed it as much as I did. Please keep your fingers crossed for future upgrades. For an interesting flight food read, check out Airlinemeals.net.
It is 2007! Happy New Year! I wish you all a very happy, healthy and prosperous year for you and your loved ones.