December 20th, 2006
Welcome to my three-part 2006 review. As much as I like to share my year with you all, I must admit that I am blogging this entry just as much for myself. Having this online journal is making up for my terrible memory. Warning, I may provide more information that you ever wanted to know. Again, more for me than for you.
Traveling was a huge part of my year. I think this may be the most I have ever traveled in one year.
The year started off slow, but it eventually picked up. Here is a list of my adventures:
March – Snowmass, CO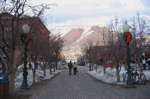 Deutsch and I had a wonderful 4 day ski trip in Snowmass, Colorado. We met up with Deutsch's family, his parents, Imbi & Rein, his brother, Ravo, and wife, Alexa, and family friends, Ruth & Peter. This was the first time I had ever been to Aspen. We actually didn't ski in Aspen, but we visited the town. Not quite as glamorous as I had expected, but very quaint. We enjoyed our large room, which we affectionately named Club 101, at Snowmass Inn.
April – Las Vegas, NV
This was the first out of four visits to Sin City. On this occasion, we celebrated Deutsch's birthday. We met up with our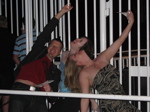 drinking buddy, Erin. Erin brought her friend, who brought her friend, who brought their friends and so on. To Deutsch's surprise, he enjoyed his birthday with five females. A nice treat for him since he is usually stuck with just me. I won't go into details because as the saying goes, what happens in Vegas stays in Vegas. I will just say the evening involved high speeds, an interesting Score and a pole. Take that as you will, but a good time was had by all. Dinner was at Border Grill and our hotel of choice for the weekend was the Monte Carlo.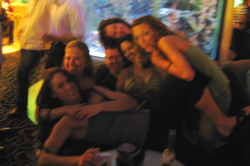 May – Napa Valley, CA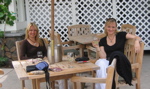 Napa Valley was another first for me. I met up in San Francisco with my friends Sue & Angie. Deutsch was supposed to go, but due to a medical emergency he stayed home to take care of our ailing kitty, Tippit*. We spent the first night in SF. We lucked out with a great rate at a fantastic hotel, The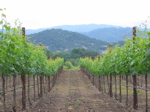 Stanford Court in Nob Hill. The next day we rented a car and drove out to wine country. Again, we were lucky to stay in another great hotel, River Terrace. We had a weekend filled with delicious meals and tasty wines. Vinyards we visited: Andretti Winery; Darioush Winery; Goosecross Winery; Domaine Chandon and Van der Heyden Vineyards & Winery.
* Tippit made a full recovery.
July – New York, NY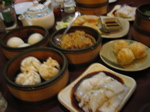 We met up with my cousin, Krissy, and her hubby, Paul. First, I would like to give kudos to Krissy for conquering her fears and getting on that plane, even in horrible weather conditions! We had a fantastic time eating our way through NYC. We are all vegetarians and we searched out all the great veggie restaurants. My favorite restaurant was Red Bamboo in The Village. Fortunately, it was worth the ourtragous two hour wait. Next time, reservations! Just a few highlights of our trip: our excursion to Williamsburg, breakfast in Bryant Park, the Central Public Library, MOMA (Museum of Modern Art) and all the food. Check out Krissy's blog part 1, part 2 and part 3 for more. We stayed at the Courtyard Marriott in Mid-Town.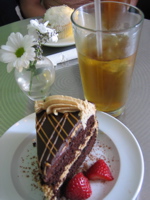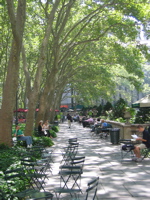 August – Toronto, Canada
In August we were off to Deutsch's parent's 50th Wedding Anniversary party. It was an enjoyable night celebrating with loved ones on such a wonderful occasion. As usual, the champagne was flowing and we danced till dawn (well, not really, but it's fun to say). I only hope we are as happy as them on our 50th! We also took the opportunity to visit the rest of our family and friends.
September – Las Vegas, again
If I recall, this was a last minute trip. We were expericing serious Vegas withdrawls. We stayed at The Excalibur. We also did research for our new and upcoming website, VegasHotelBuffets.com.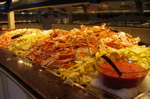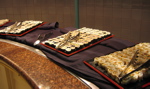 October – Chicago, IL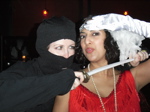 Halloween in Chicago! Our visit to Erin was long overdue. What better time to go to Chicago that Halloween? Well, maybe St. Patricks day, perhaps next year. As usual, Erin showed us a grand time.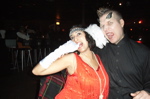 Let's just say a lot of Vodka was consumed. We finally saw her cool condo. I was extremely envious. A gorgeous place. Halloween was an evening of bar hopping, with more treats than tricks.
November – Las Vegas, yet again
This was actually a business trip. We attended Pubcon, a web publishing conference at the Convention Center. It was 3 full days of speakers. I learned a lot about the business, but it was long and exhausting. The 4th day was easier, free drinks at the Nine Fine English Men pub. That was tiring too with the pressure of networking. At least the Guinness helped out. We stayed in a nice Spa Suite at the MGM Grand. We went a little overboard with the room because we were also celebrating our wedding anniversary.
December – Can You Guess…. Vegas!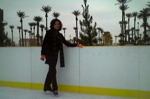 This trip was strictly pleasure and last minute. THEhotel, a botique hotel in Manadalay Bay, offered us a complimentary 2 night stay in a suite. They also gave us other perks like a $35 in dining credit. It was on my birthday weekend, so how could we say no? The weeked was fun from beginning to the very end! On my birthday we went ice skating at The Hard Rock. Yes, an ice rink in Vegas. Ah, the magic of

technology. I hadn't been skating in over 10 years. At first, I was a disaster, but slowly it all came back to me. I was skating like a pro (not) in no time. Then Deutsch surprised me with an evening of dinner and theatre. We saw Phantom Of The Opera and then dined at an Italian restaurant, Zeffirino. At dinner I was presented with a fantastic dessert with a candle and was even serenaded "Happy Birthday" by a troubador (is that the right word ?). It was a great night at The Venetian. The entire weekend was fantastic. Even at the airport on the way home a certain video poker machine was very, very nice to me. Thank you for a fun and memorable weekend Deutsch.
Toronto for Christmas
Since this hasn't happened yet, I can't write about it. However, I'm sure it will be a very Merry Christmas!
We always love having visitors. Thanks to Ruth & Riina, my Mom, Sue, Chris & Sonia, Ravo & Alexa, and Ema & Isa for taking the time to see us this year. We hope you will come again in 2007!